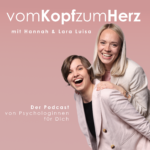 Veränderungen – sie beschäftigen uns alle. Egal ob privat oder beruflich, jede bzw. jeder von uns hat schon mal eine Veränderung durchlebt. Manche Veränderungen wünschen wir uns und initiieren wir vielleicht selber. Anderen Veränderungen stehen wir eher skeptisch gegenüber oder sind vielleicht sogar stark durch diese beeinträchtigt.
Wir sprechen über diese Veränderungen und wie wir Ihnen begegnen können – mit allen unangenehmen wie auch angenehmen Gefühlen, die diese mit sich bringen!
Unsere Leitfrage für die heutige Folge: Wie begegne ich Veränderungen und finde einen Umgang mit daraus resultierenden Sorgen, Unsicherheiten und Herausforderungen?
Den Circle of Control – das Modell, dass wir im Podcast vorstellen findet ihr beim Autor Stephen Covey in seinem Buch "The 7 Habits of Highly Effective People: Powerful Lessons in Personal Change", 2004.
Habt ihr Anregungen und Ideen für ein neues Folgenthema? Auf unserer Homepage www.vom-kopf-zum-herz.de könnt ihr uns eine Nachricht schreiben. Wir freuen uns auf euch!